Undelete and unerase all your corrupted or formatted files and folders from any removable storage device using Removable Media Data Recovery Software. USB data storage tool recovers all lost, deleted or damaged data in few minutes of time.
The removable hard disk Data Recovery Software restores photos, audio, video, images and word documents list that are corrupted due to virus attacks, accidental deletion and illegal shutdown or due to any human error or any other kind of failure to access data. File system recovery tool recover your entire lost data from all capacity drives including 64MB, 128MB, 256MB, 512MB, 1GB, 2GB, 4GB and even higher capacity removable media drives. Deleted files recovery tool ensures complete data retrieval from all types of removable storage media devices including USB Drives (Pen drive, Flash drives, Jump drives, Memory stick, Thumb drives, USB flash drives, USB hard drives, Zip drive, Key chain drive, Jet flash etc), Memory Cards (Compact Flash, External Hard drives, Mini SD card, Micro SD card, Memory stick pro, PC card, Smart Media, SD card, MMC Card, XD card etc), Windows Based Mobile Phones (PDA, Pocket PC, Hand held PC Device, Palm Device, Smart Phone etc), MP3 Players (Digital music players etc), MP4 Players (Digital audio-video players) and many other removable storage devices.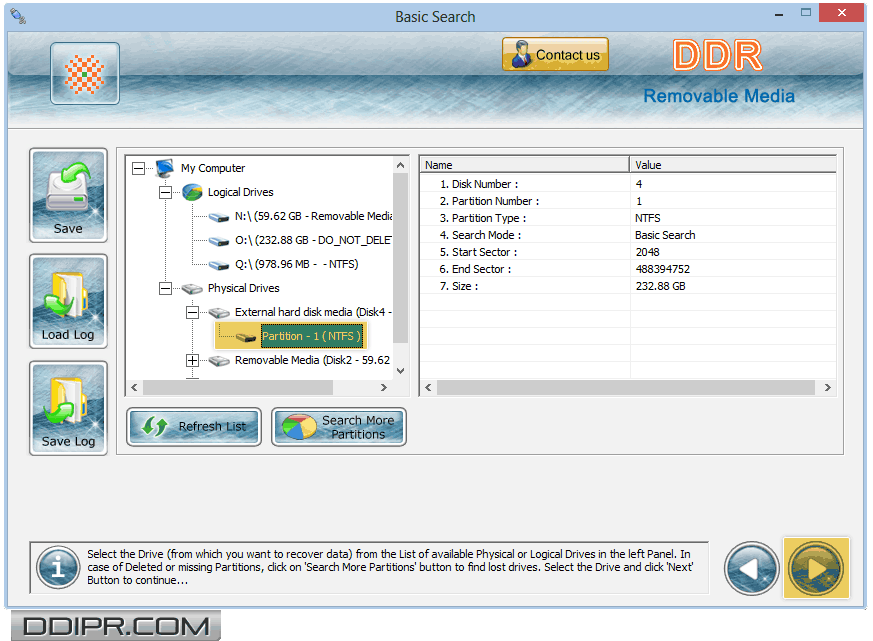 Software Feature :
Provides support to all major brands of removable media like Acer, Canon, Fujifilm, HP iPAQ, Kingston, Kodak, Logitech, Nokia, SanDisk, Sony Ericsson, Hitachi, i-mate, Audiovox, Siemens and more.
All removable media like USB drives, Memory cards, Pocket PC mobile phones, external memory cards, external hard disc drives, mp3 and mp4 music and personal media players etc are easily supported.
Facility to save the recovered file at user specified location for future purpose.