DDR Professional Recovery Software recovers lost or damaged data from hard disk drive, memory card and other USB data storage devices. Professional Data Recovery Software retrieves all types of erased or deleted documents, pictures, songs, mp3/mp4 files etc.
Recovery of lost data from different digital storage device by using Professional Data Recovery Software
What about your vital data or information after hard drive crash? Have you thought about the consequences that will occur after partitioning of fixed drive and crashing of USB supported flash media drives? DDR Professional Data Recovery Software recovers data files that are lost due to file corruption or logical damage of disk drive and mass storage devices under any worst situation.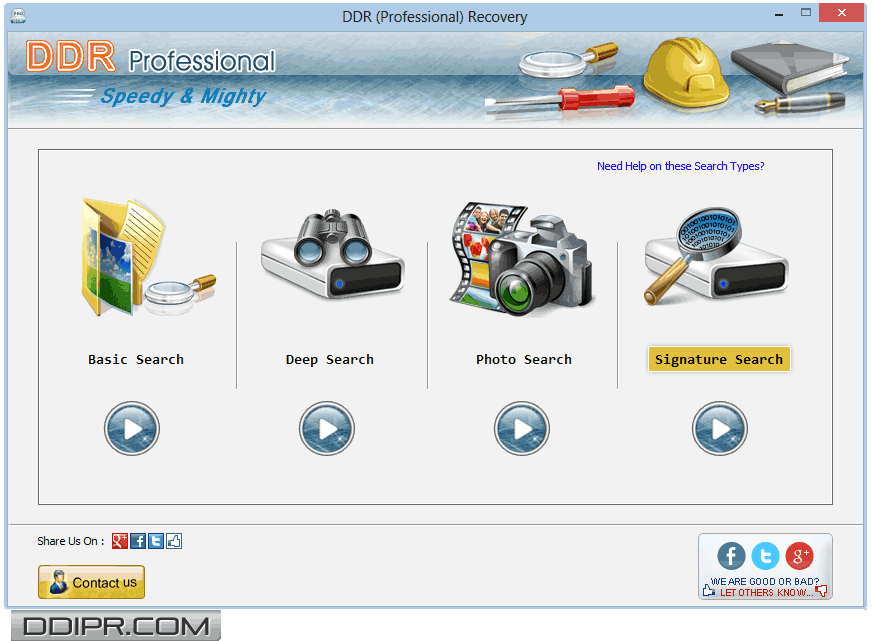 Common data loss reasons
Running virus infected media drives on Laptop or Desktop systems
Virus infected USB supported storage devices erases the data
Failure of Operating System results in loss of data
Incidentally deleting the contents from Recycle bin folder
Improper system shutdown due to power failure
Inaccessible disk drive or removable devices
Corrupted file system due to logical errors wipes the data
Accidental disk format
Accessing devices (like pen drive, External hard disk etc) on a virus corrupted PC
Software malfunctioning
Software working features
Salvage lost data from corrupted HDD or USB supported mass storage devices efficiently.
Retrieves lost data after pressing shift +del key (or emptying recycle bin folder).
Recovers data from inaccessible disk or removable portable media devices (like Mobile phones, Memory Card, Gaming systems, External hard disk, Handheld computers etc).
Software is compatible on major Operating Systems like Windows Vista, Windows 7, or higher versions of OS.