Pen drive Data Recovery Software can easily recover and display USB pen drive data in minutes even if the data is lost due to virus attack, accidental deletion, hardware/software malfunction or if the error messages like "Drive not formatted" or "Device type doesn't exist" has been displayed on the Windows Operating System while accessing the pen drive on your PC.
All the files including music, images, audio, video, text, pictures, documents etc can be easily rescued using formatted pen drive Data Recovery Software. Data retrieval software utility is focused towards recovering every single byte of information stored in USB drives and thus leads to maximum data recovery in less time. Pen drives (also known as Key chain drives, Jump drives, Data Traveller, Thumb drives, Flash drives, Memory stick, USB flash drives, USB hard drives, Zip drives, Jet flash etc) stores various kind of data information of the file formats like txt, doc, wav, gif, tiff, wks, m3u, dll, drw, aif, avi, msg, pps, cps, mov, mpa, movie, wri, sql, jpeg, bmp, mpd, mov, log, xml, jpf, aac, xls, 3gp and many more. Recovery of all these major file formats supported data is possible in minutes with the memory stick Data Recovery Software solution.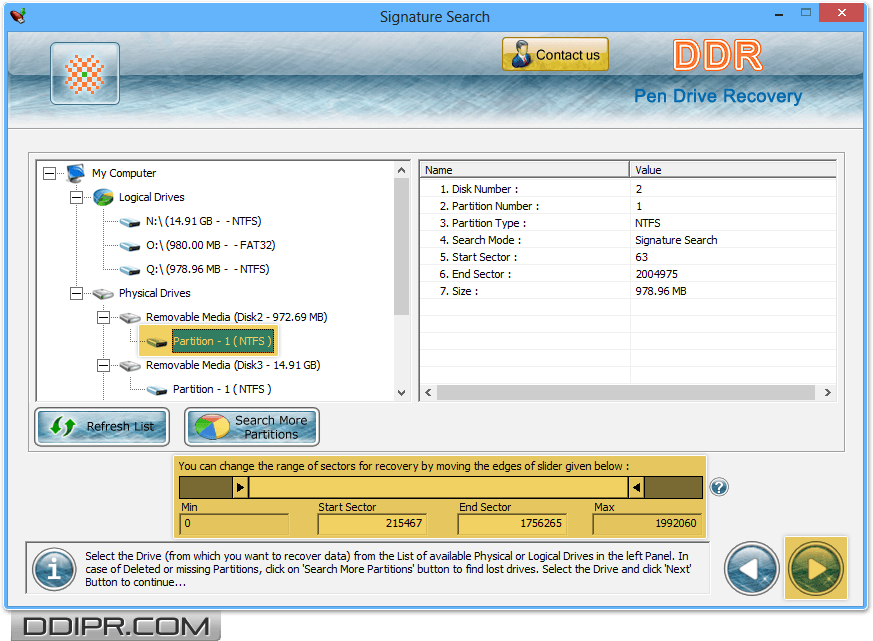 Software Features
Recovers lost data including pictures, images, text, audio, video, documents, music, song files and folders from corrupted or formatted USB flash drives.
Easily undelete deleted files stored in all major kinds of USB drives.
Support pen drives of all storage capacity like 64MB, 128MB, 256MB, 512MB, 1GB, 2GB, 4GB and even higher capacity pen drives available in the market.
Pen drive files recovery software maintains the recovery process with support to pen drives of all major brands like Kingston, Lexar, Sony, Fujifilm, SanDisk, HP, Logitech, Olympus, SanDisk Ultra, Transcend and more.