Recovery of lost, forgotten, missing or misplaced data of hard disk drive partitioned on NTFS file system can be easily performed using NTFS Data Recovery Software. Data recovery software allows user to recover all lost data stored in the hard disk drive using advanced searching and data recovery techniques.
The information including text, documents, pictures, images, audio, video, sound, music and other similar types of file formats like txt, doc, wav, gif, midi, tiff, wks, m3u, dll, drw, aif, avi, msg, pps, cps, mov, mpa, movie, wri, sql, jpeg, bmp, mpd, mov, log, xml, jpf, aac, xls, 3gp and many more can be easily recovered by NTFS data retrieval tool. All the files and folders lost or deleted due to the format or corruption of a hard drive, virus attack, unexpected system shutdown or software failure or the files emptied from the Windows Recycle Bin by pressing Shift + Del keys can be easily recovered.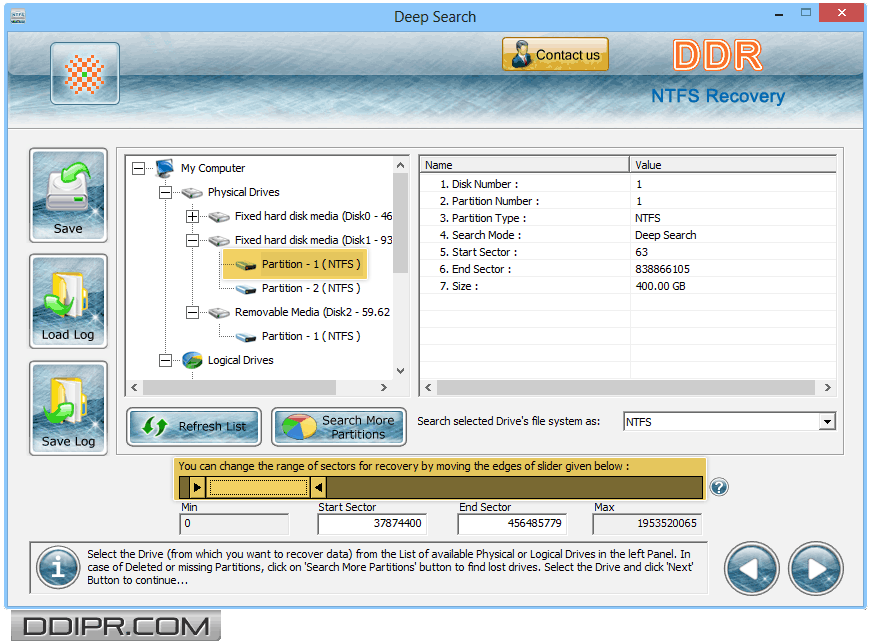 Software Features
NTFS Data recovery software offers recovery of data from Windows most commonly used NTFS partition.
Support all major hard disk drives including IDE, EIDE, SCSI, SATA and many more.
Support all major brands of hard disk drives including Acer, Lenovo, Sony, Transcend, Samsung, Seagate, Toshiba, Western digital, HP, Fujitsu, Hitachi, Maxtor, IBM, Laser, Quantum and more.